If this academic year 2023-2024 you are going to study and live in Barcelona, and you are one of those people who can't stop for a single day or suffer from FOMO, save this guide we have designed especially for you in your favorites and you won't miss a single plan, promise!
What should you know about Barcelona?
Barcelona is one of the most popular and visited cities in Europe, however, there are always certain facts and curiosities that you should know before coming to study and live here.
Identity
Known as the "Ciudad Condal", Barcelona is the capital of Catalonia, an open, modern and welcoming city. So much so that, according to the city council census data recorded in January 2023, there are currently 1,660,435 inhabitants in the city from 117 different nationalities, apart from Spanish. 
In Barcelona, as in the rest of Catalonia, two official languages are spoken, catalan, the language of the Catalans, and spanish, the language of the Spanish state. 
Barcelona is well known for its modernist legacy, including the works of the architect Antoni Gaudí, such as Casa Milà (popularly known as La Pedrera), Casa Batlló, Park Güell and Sagrada Família. However, strolling through its neighbourhoods you will also find architectural gems from other periods and styles, such as the Barcelona Cathedral or the medieval streets of the El Born or Barri Gòtic neighbourhoods, Plaza España and its famous fountains with staircases, or the Lluís Companys Olympic Stadium, built in 1929 for the International Exhibition and later remodelled to host the emblematic Barcelona'92 Olympic Games.
Customs and traditions
Barcelona and Catalonia celebrate some festivities and traditions typical of Catalan culture, such as:
La Castanyada:

Traditionally in Catalonia instead of Halloween, on October 31, on the eve of Tots Sants, Catalans celebrate La Castanyada. A popular festival of pagan origin in which chestnuts and traditional panellets (a sweet made from almonds, sugar and eggs) are roasted and eaten to remember and commemorate the dead.

Sant Jordi:

Every 23 April in Catalonia, culture and love are celebrated. A beautiful and romantic festivity in which, guided by a popular legend, lovers give each other books and roses as they stroll through the streets of their city among the stalls of florists and bookshops.

La Nit de Sant Joan:

On the eve of the 23rd to 24th June, coinciding with the summer solstice, all the towns and villages of Catalonia celebrate this festival in which, for one night, fire becomes the star of the show with bonfires and firecrackers that light up the sky until dawn.

Les Festes Majors:

Throughout the year, especially in spring and summer, each city or town celebrates its most popular festival, which includes music concerts, children's activities, popular meals and traditional Catalan shows such as the

Correfoc

, the

Ball de Bastons

, the

Cercavila dels Gegants

or

Els Castellers

. Barcelona celebrates

La Mercè

, the city's main festival, every 24 September, and throughout the year, each neighbourhood celebrates its own

Festa Major

. So take a look at the annual calendar and stop by one of them, you'll experience Catalan popular culture first-hand!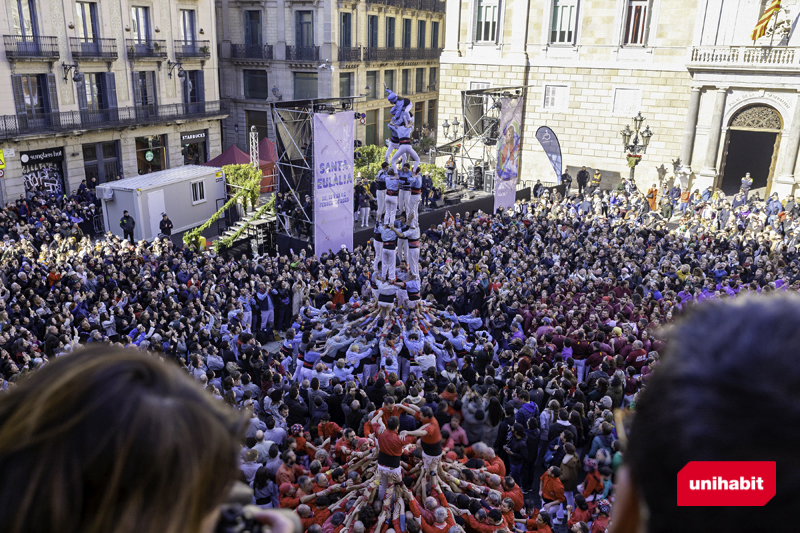 Complete guide: What to do in Barcelona?
Barcelona is a cosmopolitan city that enjoys a very good climate and sunny beaches, as well as being one of the cities with the greatest cultural, gastronomic and leisure offer in Europe. Its 10 districts and 73 neighbourhoods, surrounded by mountains and the Mediterranean Sea, make Barcelona a unique and surprising city. 
In the Catalan capital you have hundreds of different things to do throughout the year, so if you come to study and live in Barcelona you won't be bored for a minute. What's more, Unihabit's Barcelona residences are located in two of the city's most iconic and popular districts, Gràcia and Ciutat Vella.
Transport: Getting around Barcelona
Barcelona has a city model that is committed to sustainability and public transport. So in the metropolitan area you have a wide variety of transport options at your fingertips and different transport passes with multiple benefits.
Metro:

Barcelona has the second most extensive

metro

network in the country, with 8 different lines (including a funicular) and 165 stations.

City bus:

One of the city's favourite forms of transport is the

city bus

network, which runs throughout the city and the metropolitan area, and also includes night service lines. 

Trams:

In other not so central parts of the city, and on Avinguda Diagonal, we can find the

tramway.

There are currently two active but unconnected networks, Trambaix and Trambesòs, and 6 lines in circulation. 

Train:

Barcelona has a train network that connects different neighbourhoods of the city and also connects with other nearby and distant locations, thanks to the long-distance and high-speed train service.

Bicing:

Barcelona is a very pleasant city to travel around by bike.

Bicing

is a public service with more than 7,000 bicycles, 519 stations and dozens of kilometres of bike lanes that allow you to travel comfortably and safely from one end of Barcelona to the other. 
You also have the option of using the taxi service or, if you prefer, the private company Uber. And if you fancy enjoying magnificent views of the whole city, you can do so by taking the cable car to the top of the mountain and Montjuïc castle.
You also have the option of using the taxi service or, if you prefer, the private company Uber. And if you fancy enjoying magnificent views of the whole city, you can do so by taking the cable car to the top of the mountain and Montjuïc castle.
Gastronomy: What and where to eat in Barcelona
Spain and Catalonia have one of the best-rated gastronomies in the world, not only because of the large number of Michelin-starred chefs and restaurants in the country, but also because of the quality and variety of food and dishes you can find in bars and restaurants all over Spain. 
As you know, Barcelona is cosmopolitan, so living in the city means you have an excellent range of varied and international cuisine on offer, suitable for all budgets. Even so, if you want to enjoy the real experience of studying and living in Barcelona, you should savour dishes and delicacies typical of traditional Catalan cuisine such as "pa amb tomàquet", "escudella amb carn d'olla", "trinxat", "suquet de peix", "escalivada" or "crema catalana", among many others, you'll love them! 
One of the best ways to find authentic restaurants and bars is to explore the neighbourhoods where the locals live and work. Some of the favourite areas are in the neighbourhoods of Sant Antoni, El Born, Barceloneta, Vila de Gràcia, Carrer Blai in Poble-Sec or Carrer Enric Granados in Eixample. Come and visit them and stroll through their streets and squares.
And if you're a fan of local markets with charm and history that sell fresh, seasonal produce, you can't miss the emblematic La Boqueria market on the Rambla, the Mercat de Santa Caterina in Ciutat Vella, the renovated Mercat de Sant Antoni, the Mercat de la Concepció in the Eixample or the Mercat de la Barceloneta.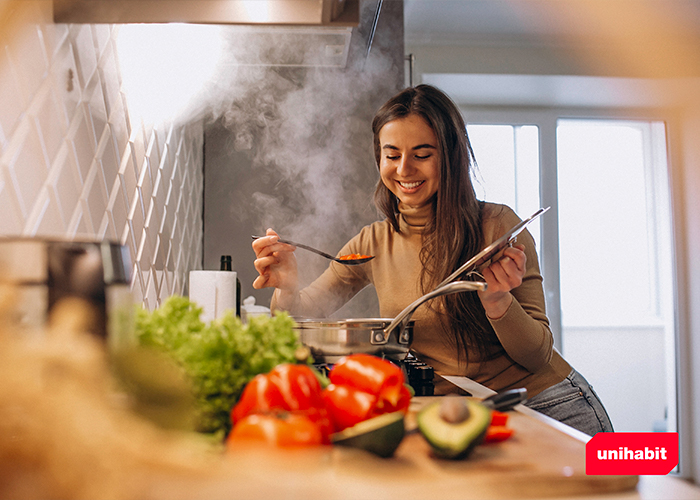 Sports: What sports can you play in Barcelona?
Barcelona is world famous for Futbol Club Barcelona, however, there are many other clubs in the city that are at the top of their sporting disciplines, so you can enjoy many live sporting events. Some of the best known and most reputable events are:
FC Barcelona matches of the men's LaLiga Football League and the Women's Professional Football League, as well as the men's and women's Champions League.

FC Barcelona and Club Joventut de Badalona ACB Basketball League matches.

Barcelona Open Banc Sabadell – Conde de Godó ATP World Tour 50 trophy

Formula 1 Spanish Grand Prix – Circuit de Barcelona-Catalunya 

MotoGP Grand Prix of Catalonia – Circuit de Barcelona-Catalunya

City of Barcelona International Polo Trophy

Barcelona America's Cup Sailing

Popular and charity races and marathons such as the Mitja Marató de Barcelona (21.1 km), Marató de Barcelona (42.2 km) or the Cursa de la Dona (8 km), among many others.
Sport is very important in the Spanish and Catalan culture and society, so in Barcelona you can go to the gym or practice all kinds of individual or team sports, such as Polo, Hockey, Paddle, Tennis, Basketball, Handball, American Football, Swimming… You choose!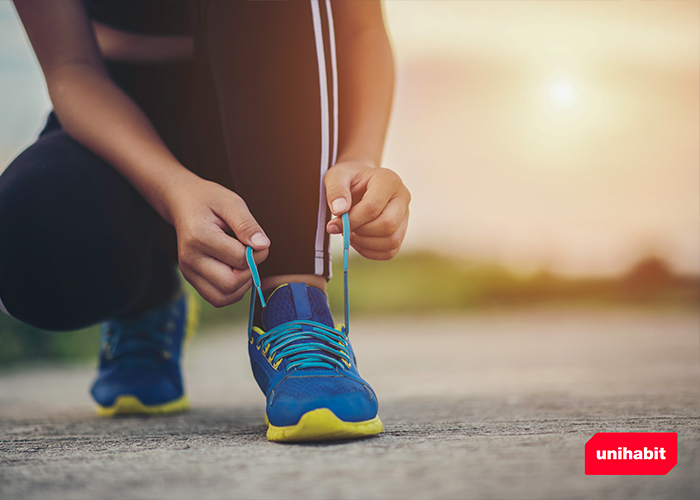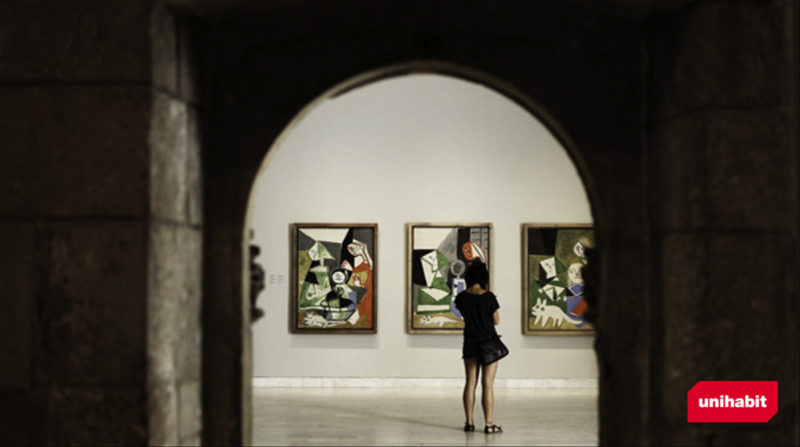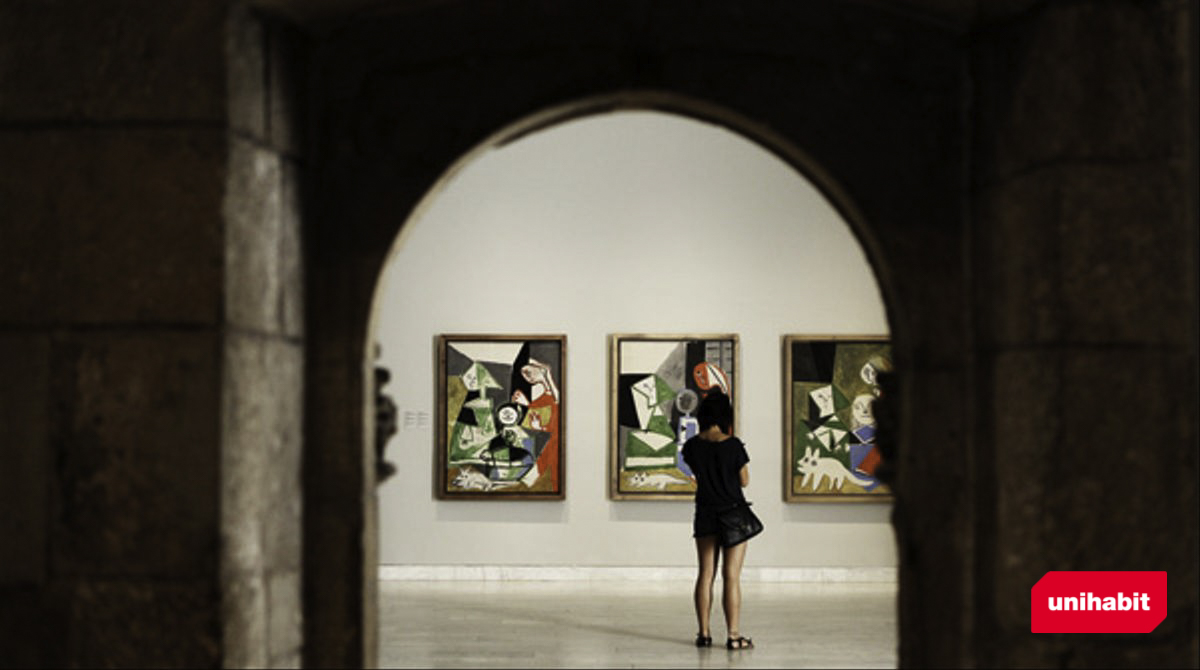 Art and culture: the best museums and shows in Barcelona
Barcelona offers a wide range of cultural and leisure activities, from theatres and auditoriums where you can enjoy plays, dance and live music concerts, as well as cinemas where you can see the latest films, to museums and galleries full of art, science and history.
Theatre 
There are currently more than 20 active theatres in Barcelona offering all kinds of stage performances, from plays and musicals to music, dance and opera concerts. Located in the historic centre of the city, specifically in the Barri Gòtic, El Born, El Raval and the Eixample, one of the areas with the most theatres and venues is the well-known Avinguda del Paral-lel in Poble-Sec. 
Some of the most legendary and representative theatres in the city are:
Gran Teatre del Liceu

Palau de la Música Catalana

Victòria Theatre

Borràs Theatre

Tivoli Theatre

Teatre Nacional de Catalunya

Apolo Theatre

Poliorama Theatre

Teatre Grec
Cinema
Barcelona has often been the setting for national and international films and series and has its own "Oscars", the Premis Gaudí, awarded by the Acadèmia del Cinema Català. In addition, the people of Barcelona are great lovers of cinema, so another thing you can't miss in the city are the cinemas, from large, modern multiplexes to cosy theatres showing independent films or international films in VOSE. Some of the most historic and authentic cinemas are:
Cinemes Verdi

Phenomena

Cinemes Texas

Cinema Maldà

Cinemes Girona

Filmoteca de Catalunya
Museums
And if you're looking to see exhibitions and permanent or traveling collections of art, history or science, in Barcelona you'll find museums and art galleries that house real gems. Here are some of the city's most important museums:
Fundació Joan Miró

Picasso Museum of Barcelona

MNAC: Museu Nacional d'Art de Catalunya (National Art Museum of Catalonia)

MACBA: Museu d'Art Contemporani de Barcelona (Barcelona Contemporary Art Museum)

MUHBA: Museum of the History of Barcelona

CosmoCaixa Science Museum

CaixaForum Barcelona

Maritime Museum of Barcelona

Egyptian Museum of Barcelona

CCCB: Centre de Cultura Contemporània de Barcelona (Barcelona Contemporary Culture Centre)
Music: the best festivals in Barcelona
Although the parties and nightlife in Barcelona's discos and clubs are world famous, if there is one thing for which Barcelona is a great international reference point, it is the countless concerts by local, national and international artists that are held throughout the year in the city's halls, auditoriums and stadiums and, above all, for the music festivals that bring together the best stars of today's music scene.
SÓNAR
Since 1994, this legendary festival has been held every June at the Fira de Barcelona. Sónar is one of the European festivals that best reflects the evolution and expansion of digital and electronic music and culture. The next edition will take place on 13, 14 and 15 June 2024.
Primavera Sound
Born in 2001 in Barcelona, Primavera Sound is one of the most internationally renowned European music festivals. Its success has led the organisers to export the festival brand to other cities in the world such as Sao Paulo, Buenos Aires, Bogotá, Adunción, Lima, Porto and Madrid. The next edition will take place from 30 May to 1 June 2024 at the Parc del Fòrum in Barcelona.
Cruïlla Festival
In July, Barcelona also organises the Cruïlla Festival, which every year hosts the most important indie music groups on the music scene. In the Parc del Fòrum, from 11 to 13 July 2024, Barcelona will host a new edition of the festival.
Modernisme: 20 incredible places in Barcelona
Barcelona is considered the capital of Modernisme, as the city has some of the most important architectural works of this movement that originated in Europe in the 19th century. Strolling through its streets and squares you'll find all kinds of buildings, public spaces and street furniture that will make you feel that Modernisme is still alive, from houses and palaces to hospitals, parks and small shops.
Take note of this itinerary and discover the spectacular creations of great modernist architects such as Antoni Gaudí, Lluís Domènech i Muntaner and Josep Puig i Cadafalch, among many others.
Modernist route through Barcelona
Gràcia:

Parc Güell (Casa Trias, Pòrtic de la Bugadera and Casa del Guarda), Casa Vicens and Casa Museu de Gaudí.

Sant Martí:

Sant Pau Art Nouveau Site (Hospital)

Eixample:

La Sagrada Família, CaixaForum Macaya, Casa de les Punxes, Casa Thomas, Palau Ramón Montaner, Palau del Baró de Quadras, Casa Comalat, Hotel Casa Fuster and Casa Sayrach

Passeig de Gràcia (Eixample):

La Pedrera – Casa Milà, Casa Batlló, Casa Ametller and Casa Lleó Morera

Ciutat Vella (Old City):

Palau de la Música Catalana and Els 4Gats

La Rambla (Ciutat Vella):

the Gran Teatre del Liceu and Casa Bruno Cuadros
As you can see, Barcelona is a city that has a lot to offer and, although it was impossible to gather all the offer in a single article, in this guide we have compiled some of the most emblematic places and the most iconic plans and experiences of the Catalan capital. There is only one Barcelona, come and experience it with Unihabit!