University students have to take care of themselves also during exams!

Have you lost your social life because of your exams? Do you miss going out to the movies or taking breaks with your university classmates? Don't worry, you're already in the final stretch! A lot of luck with the exams at the end of the semester. You'll make it! From the Unihabit university residences we want you to take care of yourself. We propose you 3 recipes for university students to survive during the exam period and to be able to study with your batteries well charged.
Bread with tomato and sausage, jam or meat
Easy to find and quick to do. If you don't have time to cook tonight, bread with tomato has always been one of the typical Catalan dishes par excellence. Easy to make and delicious.
Ingredientes:
Bread
Tomato
Salt
Oil
Sausage: Sweet ham, serrano ham, cheese, whip… What do you prefer? You only have to toast the bread, and put the ingredients to your liking.
Potato omelette for university students
Do you want to surprise all your university classmates at the Unihabit residence? Prepare a potato omelette and gather around the table so you can disconnect for a while between pages to catch up!
Ingredients for 4 people:
To accompany: Onion and cheese. Oh, and a little oregano to give it the final touch.
Spring sandwiches
Do you want to eat a lot so you can continue studying for as many hours as you need? Prepare spring snacks or vegetable snacks, ideal for an easy and quick dinner.
Ingredients:
Tin loaf
Lettuce
Tomato
Tuna
Olives
Mayonnaise to taste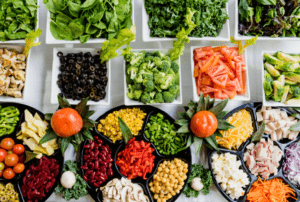 The best recipe to surprise your roommates. Three-story spring sandwiches with all the food you want! Layers and more layers, and eat. Bon appétit!
Unihabit residences offer accommodation to university students looking for rooms in Barcelona Ciutat Vella, Barcelona Gràcia, Girona or Sant Cugat.
 Contact us and come to live in the funniest student residences!