5 tips to make the most of your stay in a residence hall
Making the decision to go and live in a residence hall is a unique and unforgettable moment. For most people, it is the first time in their life they are living away from their parents. This fact should not scare you at all, since it is perfect opportunity for both personal and professional growth.   
And how to make the most of your stay in a residence hall? How do Unihabit university students live ? Living in a residence hall implies freedom and responsibility in equal proportion. It is a key moment for the student because he depends on himself to achieve all the goals that he sets for himself. It is also a unique occasion to meet new people and places, to create eternal bonds and bet on yourself.   
An essential point is not to lose contact with your environment, with your roots. For this reason, we encourage you to keep in touch with both the family and your friends outside the residence, since they are who best know you.
Unihabit stands out from other residence halls by the personalized and familiar treatment that we offer from the moment that families contact us.
We take care of the almost immediate adaptation of our residents; we accompany them and help to solve any matter that comes to mind. 
From Unihabit, we have various interviews with students, which will help you to get an idea of ​​their day-to-day life in one of our residence halls. These students will also answer the question "what activities can be done in a Unihabit residence?"
The purpose of this blog is to give you a hand with the most important aspects that you should take into account.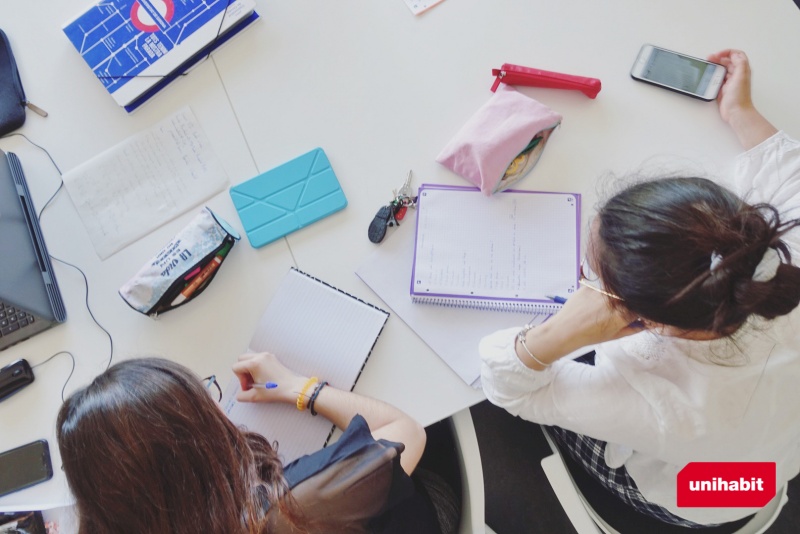 Get closer to other residents to make the most of your stay in a residence hall
In a new environment for everyone, it is essential to be tolerant and keep doors open to meet other students.. Give yourselves a chance. However, you have to be clear about who you are and who you want to become in order to set your own limits and be clear about your priorities.   
Second tip: decorate the room to your own belong
Your room will automatically become your sanctuary, your refuge, your place of worship. This is precisely why you should feel comfortable, so decorate and organize it on your terms, in the way it provides you with more peace of mind. Make this space yours.
Organization is another building block
Organization is a fundamental pillar of your stay in a residence hall. From Unihabit we heartily suggest to have good study habits, as well as a healthy and balanced diet.    
We also recommend you to plan weekly schedules within your own routine, which should include moments for studying, homeworking and leisure so that you have time enough for everything.
Do not forget to play sport
Sport is one of the best tools and routines that you can have to feel comfortable. It enables you to disconnect from the study daily tasks. We offer guided classes and facilities so that you can exercise your body and have the opportunity to escape from your responsibilities while focusing on yourself.
We invite you to make the most of the residence services
At Unihabit, we offer a wide range of facilities for our residents. Take the maximum profit of them and make the fullest use of them. We offer large study rooms and leisure areas, such as the patio and terrace of Unihabit Ciutat Vella. There is also a community kitchen, where you can prepare your favorite dishes with the rest of your colleagues and share it in the dining room. We even have sport facilities! 
At Unihabit Campus Montilivi you can enjoy our personal gym and the volleyball court, where our residents spend entire afternoons.   
At Unihabit Campus ETSAV we have a large patio and an audiovisual room where you can disconnect from study duties with the rest of your classmates while you catch up with your stay in a residence hall.  
However, the best advice we can give is to enjoy it to the maximum, as Paula Mendoza says in her interview, since living in a residence hall can be one of the most beautiful and enriching experiences of your entire life; you will forever remember it.
The answer to how to take advantage of my stay in a residence hall is easy: at UNIHABIT
The Unihabit team puts at your entire disposal all its know-how and experience to advise you in the choice of your residence hall. We will inform you about our rates, options, access to the residences and everything you need. Contact us by sending an email to info@unihabit.com or call us at 935 953 953 .