We began this 2020 meeting Jaume and Santiago, two architecture students from the ETSAV, who are very friendly. They live in our residence in Sant Cugat and they not only study the same degree, but also share a room. The discipline and passion they feel for architecture is turning this stage of their life into an unforgettable experience.
Santiago is from Valencia and Jaume of Castellón, both met and started studying architecture at the University of Valencia.  After two years, they decided to continue studying together, but this time the chosen destination was Barcelona. Mainly, for two reasons: the greater amount of hours dedicated to projects during the degree and the fact of living a different experience, studying in another university.
They are sure that the decision they made was the right one, even with all the 'pro's and 'con's' that this has meant and what it takes to change cities and universities. Nevertheless, an important part of this good adaptation and experience is due to the fact that they have found in our university residence, a pleasant and welcoming place to live while this new period passes for them.
As to why they chose Unihabit, they tell us that the proximity to the university was a determining factor and because they liked that each room was like an apartment with everything necessary to have a good stay, while studying a career in which you have to work hard and dedicate many hours.
Getting along with your roommate is a key factor in advancing your studies and they know and execute them perfectly. They even get up very early to study together, and in a coordinated way they organize the whole day to do the same things at the same time. In this way they support each other and collaborate with each other.
It is important to emphasize that Santiago and Jaume not only get along in their studies, but also carry out in a harmonious form each of the household tasks such as: cooking, cleaning, organizing, shopping together and even to enjoy the same hobbies.
They do everything as a team to make things easier and more bearable. This makes them 'Roommates' who combine perfectly and make these years of study a great life experience.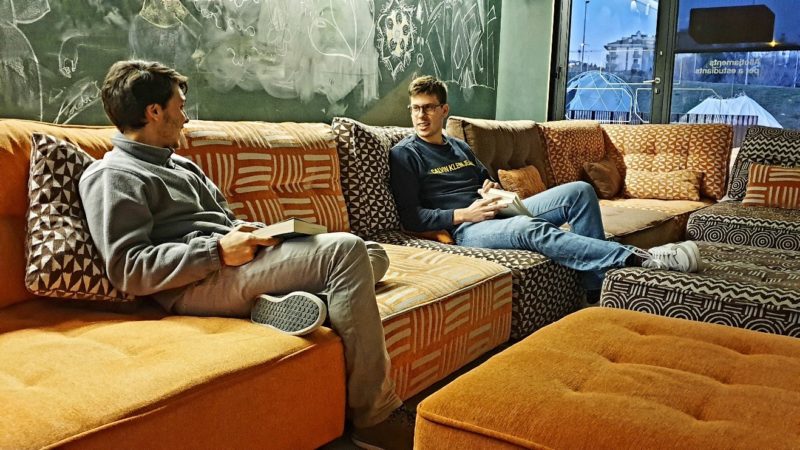 As Santiago tells us, Jaume is good at cooking. "The rice dishes come out very well and sometimes he invents new ones, but they are always delicious. When Jaume cooks, I clean the room. That way, while one cooks, the other one organizes and in this way we make progress; although we usually clean and tidy the room together on weekends", said Santiago.
When asked if they could imagine living with a different partner, they both said they couldn't imagine it. Jaume pointed out that he does not see himself with another roommate. "We are so used to each other, that it would be difficult" and jokingly concludes "Better the bad known than the new to know". Making reference that he prefers to be with his partner, before living with a new one.
When asked about what they do to disconnect from so much study, they say that it is a little difficult for them to disconnect, but they try to do so by taking walks, reading books and above all by sharing what is perhaps their favorite hobby: going to the cinema.
What's your favorite movie?
Santiago: "El Ángel", by Luis Ortega.
Jaume: "El gran Hotel Budapest", by Wes Anderson.
A sport?
Santiago: Swimming.
Jaume: Running.
Although at the moment both admitted that they have the sport 'parked'.
A city that you like?
Santiago: San Sebastian, Donostia.
Jaume: París.
A book?
Santiago: "Los miserables", by Victor Hugo.
Jaume: "El extranjero", by Albert Camus.
Curious facts:
Jaume plays several instruments: Violin, guitar, lute and dulzaina.
Santiago is passionate about drawing. He loves draw.
Talking, in this short time, with Santiago and Jaume we have realized that they transmit a great harmony and a good companionship between them, that makes them happy to listen. All this shows the good team they make both for the studies and for their coexistence inside the residence. Without a doubt, this is the best way to enjoy this great university experience. Congratulations!
Are you looking for university accommodation in Sant Cugat, Barcelona or Girona? Come and live in Unihabit's student residences, contact us for more information!