What is celebrated on the 23rd of April?
THE DAY OF THE BOOK
April 23rd is the Day of the Book that, since 1964 in Hispanic speaking countries, commemorates the death of Miguel de Cervantes and William Shakespeare, who both died in 1616. In 1995 UNESCO then declared the 23rd of April to be the World Book Day.
Actually, to be more precise, although both writers died on April 23rd they did not die on the same day. Nearly a century earlier in 1582, Pope Gregory XIII put the calendar 10 days forward in order to better adjust it to the seasons (Gregorian calendar). In this way, the 4th of October 1582 came to be the 15th of October 1582. These measures were immediately adopted in France, Spain, Portugal and Italy, but in other countries such as England, it did not happen until 1782.
So, for the English, Shakespeare died on April 23rd, whereas for the Catholics he died on May 3rd.
SANT JORDI IN CATALONIA
In Catalonia, the 23rd of April coincides with being the day of Sant Jordi, which is the day of the book, the rose and of lovers. Sant Jordi (in English, Saint George) is the patron saint of Catalonia, Aragon and the Balearic Islands.
The abbreviated version of the Catalan legend of Sant Jordi is that in the Montblanc Mountains there lived a dragon that terrorized the inhabitants of the area. By popular vote, and after having sacrificed all the livestock of the villages, people decided to sacrifice a person. This unfortunate responsibility fell on the King's daughter. When she began to near the dragon's cave, Sant Jordi appeared. He was a young and valiant knight who then tackled the dragon and saved the princess. From the spilled blood of the dragon grew a red rose bush. The knight cut a rose off and offered it to the princess. The King, in gratitude, wanted to marry the knight and his daughter, but Sant Jordi refused, stating that his coming to those parts was due to a divine revelation that showed him the villages' plight with the dragon. (If you want to find out the whole story, click here).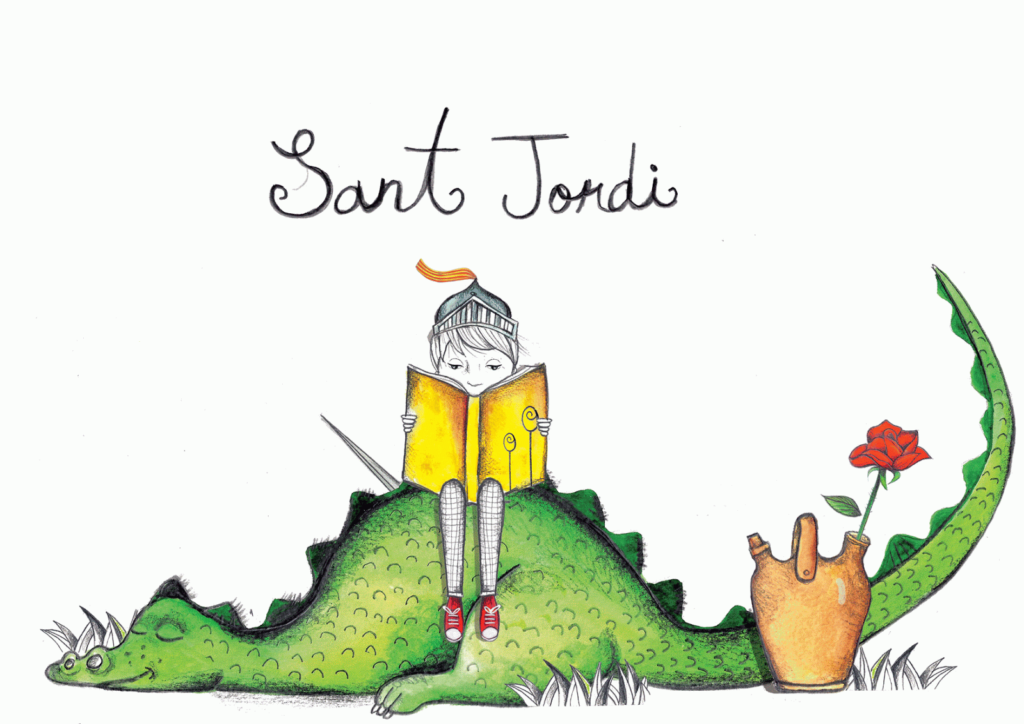 Therefore, it is that on the 23rd of April in Catalonia, men give roses to women (it can be their partner, sister, mother, daughter, or anyone, for that matter). And women, on their part present a book.
Throughout the day, the streets of cities and towns in Catalonia are filled with little stands selling books or roses, making it one of the prettiest and most heart-felt days for Catalonia and its people.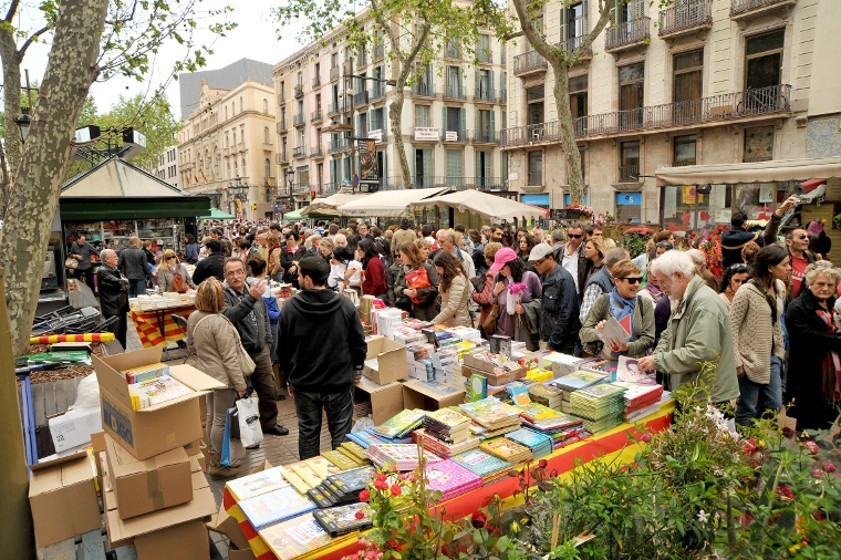 ¡HAPPY SANT JORDI!