If you are looking for a neighbourhood in Barcelona in which to immerse yourself completely in the Catalan cultural tradition, with a huge array of activities on offer and with a strong community spirit that reaches out to welcome newcomers and make them feel at home, then  Unihabit Barcelona Gracia is without doubt the residence for you!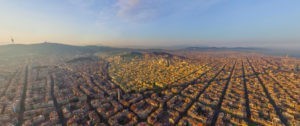 The apartments in the Unihabit Barcelona Gracia block are fully renovated apartments for rent solely for students. They are located on the street of Sant Salvador 76 in a bustling area known for its multiculturalism, internationality and strong community spirit, extending equally to newcomers and to those who have lived there all their lives. Gracia will allow you access to a unique corner of Barcelona.
The  "Festes de Gràcia", are the most renowned local celebration. Taking place during the second half of August, they offer an amazing opportunity to the student, professional or researcher housed in the Unihabit Barcelona Gracia accommodation to experience the atmosphere and novelty of this lively local holiday.
The apartments of Unihabit Barcelona Gracia all have 2 bedrooms which, depending on the overall stay and use (they can be rented as singles or doubles), have different monthly rental prices. Each bedroom has a single bed, wardrobe, desk and chair.
Each apartment is equipped with air-conditioning, heating and WIFI. They all have a complete bathroom (shower, sink with cupboard, toilet, mirror, toilet paper holder and towel hanger); plus there is a multifunctional area consisting of a fully equipped kitchen with a kitchen-top, cupboards, double induction hobs, extractor fan, fridge, dishwasher, washing-machine and a microwave with a grill and a living area with a dining table, 4 chairs, shelving and sofa.
The monthly rent includes the cleaning of the buildings common areas and a space to keep bikes. The Unihabit Barcelona Gracia apartments for rent also offer optional complementary services with the objective of facilitating student's day-to-day life. (The prices of these services not included in the monthly rental price are detailed here).
So, if you want to have an authentic, unique and completely personal experience, as well as enjoying the best service and treatment, do not miss reserving your place in the Unihabit Barcelona Gracia apartments!