Taking to the streets to demand women's equality and making them visible is the main objective of the general strike that has been called on March 8, on International Women's Day. In addition, this year the unions are placing special emphasis on the protocols and actions against male violence.
The mobilization is articulated in four different axes: labor, care, consumer and student. Therefore, university students are also invited to participate in the various events and support the demand that, one more year, expects  the participation of thousands of people.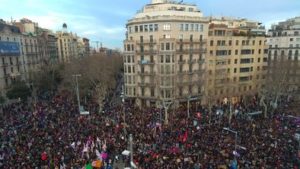 Source: eldiario.es
How is the 8M strike organized?
Feminist movements from different towns and cities in Spain have organized events in the framework of Women's Day. The demonstration that will take place between 6pm and 7pm in the afternoon in different municipalities is the most important action that aims to bring together the maximum number of participants to make the struggle visible.
How does the 8M manifestation work?
In order to make women more visible in society, the 8M feminist demonstration calls for women, lesbians and trans people to participate at the head of the demonstration. On the other hand, it is important to emphasize that men can also participate, in the space of the bloc mix, which would be in the second part of the demonstration.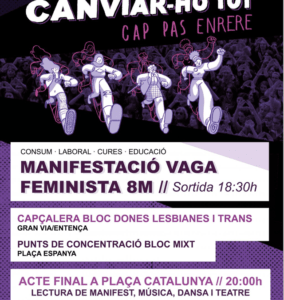 Women's Day events in Barcelona
In the city of Barcelona there is a multitude of events organized within the framework of Women's Day where students can participate to give their support to the movement. However, the main event planned to gather many participants is the demonstration that will take place at 18.30pm in Gran Vía. The header will be located at the confluence with Entença Street with the non-mixed block.
Women's Day events in Catalan capitals

Many Catalan municipalities have also organised a multitude of events to support the feminist strike on March 8.
Girona:
At 11.30 am there is a demonstration starting from the Barcelona 60 road and arriving at the Plaça del Vi organised by the recently created Gironina Feminist Platform, while at 7 pm there will be a concentration in Plaça U d'Octubre.
More information about 8M in Girona
Lleida:
In Lleida the demonstration will start at 6pm in the afternoon from the Ricard Viñes square which will end in the Sant Joan square with the reading of a manifesto and a concert, as announced by the Marea Lila platform, which is made up of different movements in the city.
More information about 8M in Lleida
Tarragona:
In Tarragona the feminist demonstration is called at 19.00h in the Imperial Square. There are also several concentrations in the morning.
More information about 8M in Tarragona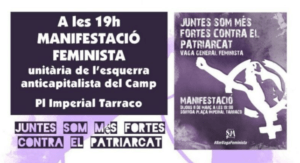 Unihabit university residences offer you accommodation in Barcelona, Girona and Sant Cugat. Contact us for more information. Contact us for more information.