Unihabit Ciutat Vella,  unique space in a unique city.
Barcelona is one of the most important and well-known cosmopolitan cities around Europe and even the world. Thanks not only to its excellent location, but also to its large array of educational and leisure offerings. In an unbeatable setting, with an ideal climate and all the services one could wish for, Barcelona has become one of the most popular destinations for students, teachers and tourists alike. For this reason, Unihabit Ciutat Vella could not fall short, and has designed an amazing residence for you to live in.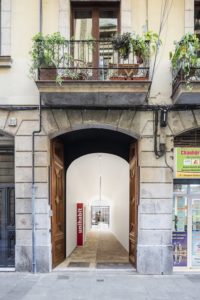 Following the high standards of the city, Unihabit has come up with a unique concept for a residence that will allow all university students to enjoy a special, personalized experience that will cover all their needs for the duration of their stay.
Unihabit Barcelona Ciutat Vella has a prime location, set in the heart of the Old Quarter of Barcelona. The neighbourhood is renowned for its multiculturalism, diversity and quality of life throughout its winding streets and hidden squares
Integrated in a historic building, completely restored and rehabilitated, a stone's throw away from MACBA (Contemporary Art Museum of Barcelona) and, for that matter, from the city centre; surrounded by the main tourist attractions and services; the residence of Barcelona Ciutat Vella offers fully furnished bedrooms with all the basic services and technology. It has a contemporary, modern and youthful design, in order to fullfil the expectations of even the most demanding residents.
The communal areas, study halls, roof terrace and interior patio are authentic places of cultural exchange, where residents share experiences and knowledge, along with a whole range of activities, organized by the residence as well as by themselves. These areas provide excellent meeting points and are much sought after by all university students.
Thanks to its great furnishings, the Unihabit Ciutat Vella university residence provides a service aimed at all university students, teachers and/or researchers that require their own personal space, structured around their needs for the duration and type of stay, in a pleasant and respectful international environment.
The residence has single, double and triple rooms, designed as multifunctional spaces with private kitchenettes, fully equipped bathrooms and bedrooms, WIFI, heating and air-conditioning. All bedrooms have lots of natural light thanks to the exterior windows from which you can catch a glimpse of the daily goings on of Unihabit Barcelona Ciutat Vella.
If, with everything, the residents (students, teachers or researchers) feel they need any further services, they can always contract one of the optional ones that the residence provides (these are not included in the monthly rental prices).
Therefore, if you do not know where to live, and if diversity, commodity, functionality and accessibility are all essential for you, along with the possibility of studying with all your needs fulfilled, do not look further, you have found the right place!