Paula Mendoza was born in Castelló in 1999. She is currently studying a double degree in Biology and Environmental Sciences at the University of Girona while living at Unihabit. Today we delve into her most personal side and her point of view of both the city and the residence hall.
Paula is pure energy, one of those people who has a special magnetism that attracts you, captivates you, and spreads her enthusiasm from the very first moment thanks to the smile she wears wherever she goes.
She is a curious girl who radiates intelligence. She is passionate about rock and metal, science, food and small pleasures.
Having said that, let's know her better! Here we go!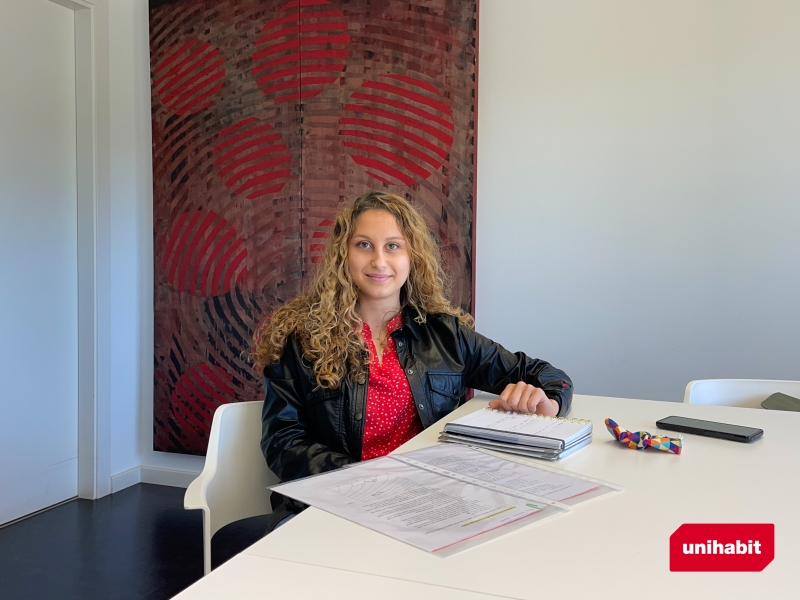 I am studying for a double degree in Biology and Environmental Sciences at the University of Girona.
How long have you been at Unihabit?
This is my fourth year at Unihabit.
What hobbies do you have in Girona? Are they the same as when you landed?
My hobbies in Girona are walking while listening to music. I sometimes play volleyball at the residence court with my classmates and little else, due to current restrictions.
What is your favourite music band?
It is hard to choose one in particular, as I especially like British rock like Muse. However, I also love German metal like Rammstein and Oomph!
When do you decide to study away from home?
I decided to study away from home when I realized the only way to get a double degree was in Girona. In addition, I saw it was the perfect opportunity to mature and seek personal growth, and I do not regret having come to this decision. 
What was you most worried about before coming?
What I was most worried about before coming was the possibility of finding closed groups of people difficult to join, so it could be difficult for me to adapt and make friends.
What is it like to live far from family?
Well, living away from family is like everything else, it has both advantages and disadvantages. Actually, if you look at the overall balance, it is very positive because it makes you grow, but at the same time, you have to manage to do your homework, and you miss family warmth.
What do you miss the most about your home?
What I miss the most about my home is mealtime: finding the food ready after class it is always a pleasure.
How do you envision the future when you finish your degree? What would you like to do? Doing a master, finding a job…
When I finish my degree, I would love to do a master's degree. At the same time, I have always dreamed of doing a PhD. It could be great ending up doing research, but I am also open to other possibilities. I am sure I will do the master's degree at least!
Do you have any life motto / mantra?
More than a life motto, what I have is a word itself: PERSEVERANCE. It is significant for me, because being perseverant is what makes you get what you want.
What do you like the most about Girona? Did you know the city? 
irona is a big city, with almost 100,000 inhabitants, but once you live there, it really seems a village. It is a quiet and safe place. You can walk everywhere because it is very flat. Besides, you can find anything you may need. 
Do you have a special place in the city?
As a student, the König. The part of the old quarter is also very nice; it is worth visiting any area of ​​that part of the city.
What would you highlight about the University of Girona?
I would emphasize that it is relatively small and everything is within easy reach. The Montilivi library, for example, is very nice, as is the whole University in general.
How did you discover Unihabit?
Well, it wasn't me who discovered Unihabit. It was my mother who found it by searching for residences in Girona on the Internet. Then, she contacted Montse, who immediately sent her all the detailed information and gave her so much peace of mind that she was delighted with the idea of ​​coming here.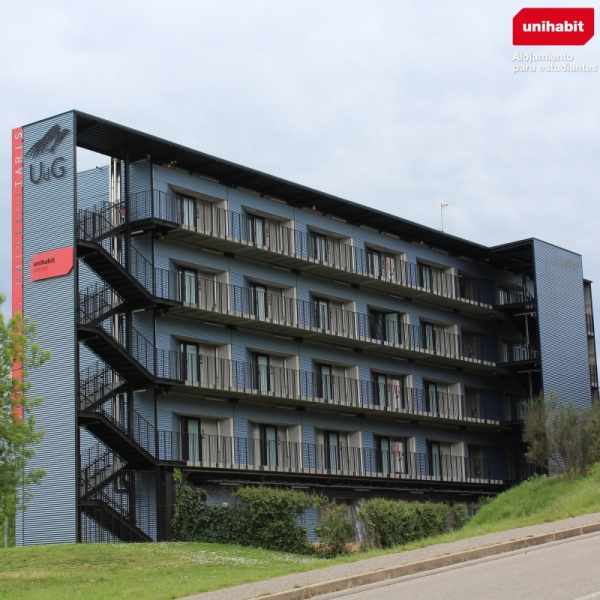 How do you remember your adaptation?
I do not remember an adaptation as such, the first time I stepped on Unihabit I already knew David and we understood each other immediately. The feeling and good relationship was instantaneous. On the first day, we became friends with the neighbors next door and David himself introduced me to my partner. We have been roommates for the last four years. It has been a total adaptation, without any problems from the first day.
What do you like most about Unihabit?
What I like most is the fact that they are very close people. You can count on them for anything you may need. They are people who understand you and make everything easy. Moreover, facilities are great and there are very beautiful views.  In summary, being at Unihabit has many advantages.
How do you organize your studies in university housing?
I study in the common study room, day or night, whatever it is necessary.
What moments do you remember with special fondness at Unihabit?
Besides the parties we have, such as the welcome party or others, I especially remember the moment I met one of my best friends. David told me there was a new neighbour who did not know anyone and encouraged me to knock on her door to introduce myself. Since then, she is one of my best friends without any doubt. It was a very nice moment.
Do you have a favourite place in the residence?
This is a difficult question, as the common room is where you spend the most part of the day to day. I have a love-hate relationship with it, because the reason you of spending time, there is always hard work (exams or work in general). Nevertheless, at the same time, when I am not there I miss it. I would particularly highlight the views, which are fantastic.
How is your day like at Unihabit?
My day at Unihabit is quite monotonous. I wake up, have a normal breakfast, go to University, and then go back to the residence hall for lunch. After lunch, I go back to the university if I have an internship. If not, I start studying and doing class work.
What advice would you give to someone who is considering living in a residence?
>One piece of advice I would give to someone who wants to come to a residence would be to come with an open mind and a great desire to meet new people. The most important is being an outgoing person. Even if you are not, it is easy to make friends.  I would also tell them to enjoy the experience, which is beautiful.
Do you want to send a message to future residents?
The message I would send to future residents would be to enjoy the experience wisely. Being wise and judicious is the key for going through life.