Everything you need to know to make a good calçotada!
When you do Erasmus in Catalonia there are many places to visit and many experiences to live. An escape to the Pyrenees, a night in Barcelona, a visit to the Sagrada Familia… But there are also many experiences you can't miss and, at this time of year, celebrating a calçotada with friends is an appointment marked in the agenda that, yes or yes, you have to take advantage of.
Haven't you ever made a calçotada? Don't worry! From Unihabit's university residences we give you all the advice you need to make sure you don't miss out on the essence.
The indispensable dish: calçots
Surely if you are living the Erasmus experience in Catalonia, you have never heard of calçots before. This typical Catalan food is a variety of spring onions, little bulbous and softer onions that are worn as they grow, and eaten roasted.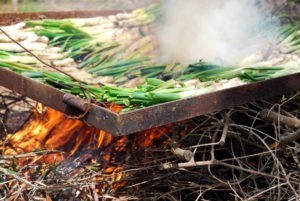 To ignite the ember with time with firewood premium. A good calçotada is not made in a hurry! Arrive early and start preparing the fire, while you're making the vermouth :P!
Before cooking the calçots in the fire it is important to remove the piece of root, but it is not necessary to clean them nor to pass them through water.
It's time to grill the calçots. Remember that you will have to turn them and that the most important thing is that the white part of the calçot is cooked. Therefore, it is important to put them strategically so that the leaves are outside the grill and the white part is placed inside.
Once you see that it begins to open the skin of the calçots and to drip the juice inside, (good sign!), it means that they already begin to be ready and that you can take them out. It is important that they are well toasted before taking them out of the fire, or when they will be eaten without being well done!
As you remove the calçots from the fire it is important to leave them well stored so that the heat does not go away. The best option? Wrap them with newspaper for handfuls.

Calçot sauce: the indispensable complement
In the period that you have been living the Erasmus in Catalonia you have surely heard a lot about the sauce of the calçots, an indispensable element to enjoy the calçotada at 100%.
Once you have the calçots ready, before eating them it is very important to always wet the calçot sauce.

You can't miss it either…
A good calçotada needs good calçots and salsa, but that's not all. You can also accompany it with a good snack, with potatoes, olives and some drinks… As well as grilled meat and toasted bread, taking advantage of the fact that your fire is on!
If you are an Erasmus student in Catalonia and you are looking for accommodation to live in, the Unihabit university residences offer you rooms in Barcelona, Girona and Sant Cugat. Contact us for more information.